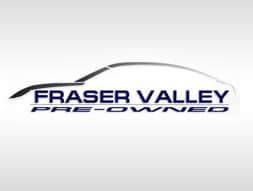 Fraser Valley Pre-Owned is home to a great selection of pre-owned cars and used trucks. Fraser Valley residents make their home in a region with a sprawling countryside; a perfect place to escape from the hustle and bustle of the city. From local farms and winemakers to beautiful lakes, traveling through the countryside takes a vehicle you can depend on to run at prime condition. That's why Fraser Valley Pre-Owned offers the quality used trucks Fraser Valley residents have come to trust for their transportation needs. We guarantee all of our used vehicles, and if you aren't satisfied with the vehicle you purchased, you can always exchange it within 30 days or 3,000 kilometers with no worriers.
Contact Us Today for More Information on Used Cars in Fraser Valley
If you're looking for used cars in Fraser Valley, look no further than Fraser Valley Pre-Owned. We are based in Abbotsford and serve the surrounding areas. Our customer service is second to none, and we guarantee all of our vehicles with a no charge extended warranty protection plan. When looking for reliable used cars, Fraser Valley Pre-Owned has you covered. Call, email, or visit Fraser Valley Pre-Owned today to learn more about our used vehicles.